5w-12v Boat Lift Solar Charging Kit (w/36-inch arm)
Our entry level, 5w-12v Boat Lift Solar Charging Kit provides light-duty charging for 12v DC boat lift & PWC systems that use a single 12v battery. Lake Lite's Boat Lift Solar Charging Kits have high quality solar panels that will keep your boat lift battery in top condition so the DC lift motor has the power to raise and lower your boat or Jet Ski.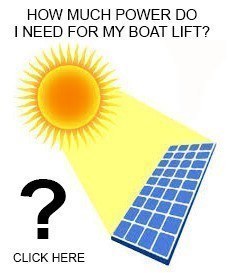 The 5w-12v Boat Lift Solar Charging Kit is constructed to last using only the best materials to withstand harsh marine environments and UV radiation. The easily-adjustable anodized aluminum mounting arm resists corrosion and has the strength to withstand high winds and storms. Furthermore, Lake Lite's manufactures the highest quality solar panels available and are rated for 20+years life! With an emphasis on CELL quality, reliability, and longevity, Lake Lite's 5w-12v Boat Lift Solar Charging Kit meets the highest customer standards. Our panels feature monocrystalline cells, a superior solar technology when it comes to efficiency. Superb low lighting performance, these single-crystal, silicon cell panels have a long lifespan, high durability, high reliability. These modules are sealed with low iron tempered glass and anodized aluminum alloy frames.
Key Features & Benefits
High-Efficiency Mono-Crystalline Solar Cells
20+ Years Lifetime Panel Rating
12v DC Boat Lifts and Boats
Replaceable Wiring & Quick Connect System
Adjustable Angle for Maximum Solar Charge
Optional Solar Charge Regulator
J-Arm Easily Handles Storms & High Winds
Boat Lift Solar Charging Kit Includes:
5w-12v High Efficiency Solar Panel with Anodized Frame
20ft Red-Black Color Coded 18AWG Wire & Quick Connect
3/8" Battery Connection Ring Terminals & Quick Connect
36" Mounting Arm, Bracket, & Hardware
2 Stainless Steel Mounting Straps
Instructions & Wiring Diagram
Free Technical Support
Optional Solar Charge Regulator
Free Battery Status Indicator