30w-24v Boat Lift Solar Charging Kit
Lake Lite's advanced 30w-24v Boat Lift Solar Charging Kit provides extra power and is a robust solution for charging 24v DC boat lift systems using two 12v batteries in 24 volt configuration. The added power of Lake Lite's Boat Lift Solar Charging Kit ensures better performance even on cloudy days allowing for higher usage. Our high quality solar panel will keep your boat lift battery in top condition so the DC lift motor has the power to raise and lower your boat. Compared to 12v systems, the 24v set-up provide more than double speed in raising and lowering a boat hoist! The 30w-24v Boat Lift Solar Charging Kit includes all necessary wiring including an 18" jumper cable to connnect two 12v batteries, solar panel extension wire, connector wires, and a 24v Solar Charge Regulator.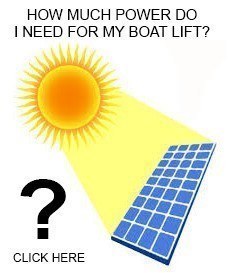 The 30w-24v Boat Lift Solar Charging Kit is constructed to last using only the best materials to withstand harsh marine environments and UV radiation. The easily-adjustable anodized aluminum mounting arm resists corrosion and has the strength to withstand high winds and storms. Furthermore, Lake Lite's manufactures the highest quality solar panels available and are rated for 20+years life! With an emphasis on CELL quality, reliability, and longevity, Lake Lite's 30w-24v Boat Lift Solar Charging Kit meets the highest customer standards. Our panels feature monocrystalline cells, a superior solar technology when it comes to efficiency. Superb low lighting performance, these single-crystal, silicon cell panels have a long lifespan, high durability, high reliability. These modules are sealed with low iron tempered glass and anodized aluminum alloy frames.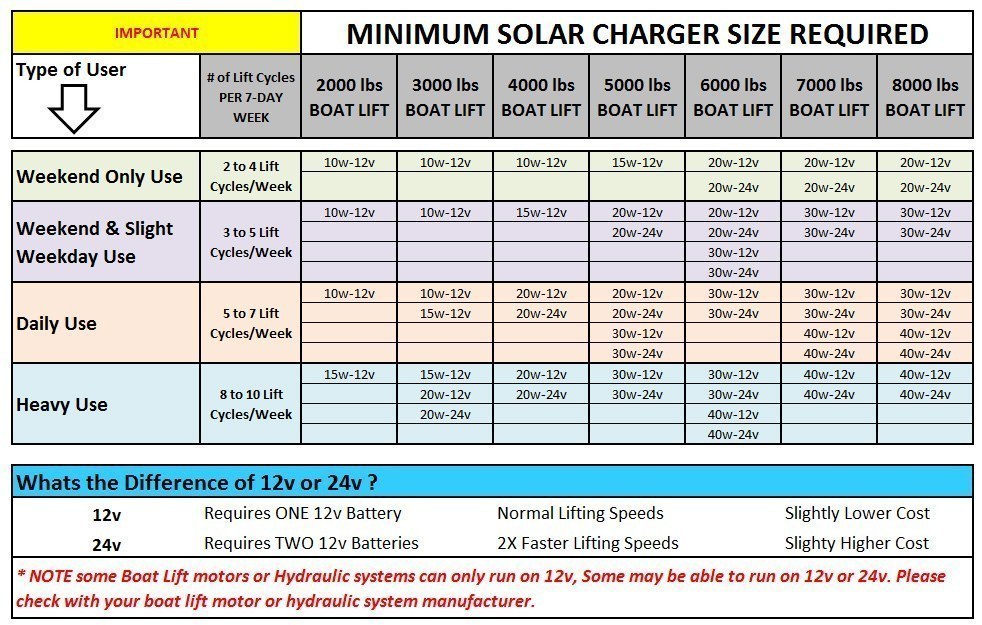 Key Features & Benefits
High-Efficiency Mono-Crystalline Solar Cells
20+ Years Lifetime Panel Rating
24v DC Boat Lifts and Boats
Replaceable Wiring & Quick Connect System
Adjustable Angle for Maximum Solar Charge
J-Arm Easily Handles Storms & High Winds
Boat Lift Solar Charging Kit Includes:
30w-24v High Efficiency Solar Panel with Anodized Frame
24v 5A Solar Charge Regulator with LED Status Indicators
20ft Red-Black Color Coded 18AWG Wire & Quick Connect
3/8" Battery Connection Ring Terminals & Quick Connect
Choice of Mounting Arm Height, Bracket, & Hardware
Choice of Battery Tray Type
2 Stainless Steel Mounting Straps
Instructions & Wiring Diagram
Free Battery Status Indicator
Prompt Delivery, Easy to Install
by
08/19/2019, 01:18:00 PM
The solar charging kit arrived on time & well-packaged, as expected.
The system was relatively easy to install, with the wiring pre-labeled and connectors ready to go. I was operational in 2-3 hours.
Looking forward to the system performing just as well.
Great kit but could use some tweaks
by
06/21/2019, 08:03:00 AM
So far I'm pretty happy with the 24V solar charger kit. I have spent several days getting it ready to mount to the hoist and have not operated it yet but plan to this weekend. I wanted to share some initial feedback.

I rank it at 5 stars but...
So far I'm pretty happy with the 24V solar charger kit. I have spent several days getting it ready to mount to the hoist and have not operated it yet but plan to this weekend. I wanted to share some initial feedback.

I rank it at 5 stars but debated about 4. The directions are EXCELLENT. Very clear. Refreshingly clear as so many things you buy any more have poor instructions. Overall it seems to be a of decent quality but there are several areas of the design where I scratch my head as it could be easily improved. My biggest complaint is the garbage metric hardware. My suggestions:

Solar panel frame to arm bracket bolts. Metric pan head machine screws are provided with lock nuts. You fish the screws through blindly between the panel glass and frame. Screws have Phillips heads so there is no way to hold the screw while you tighten the nut. Simple fix by going to the hardware store and getting SAE stainless steel hex head bolts and lock nuts. (why metric to begin with????)

The wire that goes between the solar panel and the regulator is long. Really long. I didn't measure it but probably around 20-25'. Most people are likely mounting the panel and arm fairly close to the batteries. Due to constant Lake Huron winds in my application, I want a tidy installation and shortening the wire would require cutting and butt splicing it as the ends are permantly attached. Again, not the end of the world but options on the wire length or an end design that allows the wire to be shortened would be advisable. I ended up making approximatly 3' long loops, wrapped it in nylon wire sheath and slid it inside the arm tube with just enough ends hanging out to make my connections.

There is a carriage bolt and lock nut provided for the arm to panel bracket (metric again). Mind you, the bracket is aluminum with a square hole to prevent the carriage bolt from turning. Unfortunatly with that big heavy panel you can't get the nut tight enough to hold the correct panel angle before the square hole strips into a round hole. Now you're in trouble as you can't get ahold of the bolt to prevent it from turning to get the lock nut off! I had to cut off the bolt with a cut off wheel. Really poor design. I remedied this by slightly roughing up the interface areas of the arm and bracket so it wasn't polished smooth and would hold position better and once again going to the hardware store for a proper SAE stainless hex head bolt, washers and lock nut. Problem solved.

I would also suggest that the support brackets under the dual battery tray didn't terminate exactly center to the battery box! Why? Deep cycle marine batteries are about $200 a piece and I want to lock them. That interferes with placing a strap style battery lock on them. Again, simple design change suggested.

Overall it seems to be a decent quality kit but as described there are a number of simple improvements what would make life much easier and not impact the cost of the kit.
Accessories & Replacement Parts