12v Direct Drive PWC Lift Motor + Dutton Lainson 1500 lbs Winch + PWC Lift Charging Kit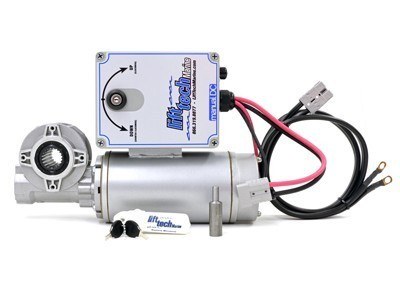 The DC - Direct Drive PWC Lift Motor offers 12v set up. This motor, when coupled with one of Lake Lite's 5W or 10W-12V PWC Lift Charging Kit will keep your lift battery in top condition.
5W Solar Panel & Battery Box: will be perfect for light use of the Lift.
10W Solar Panel & Battery Box:will be perfect for heavy use of the Lift.
Didn't eat your spinach? Ditch your wheel and turn a key and let a powerful Direct Drive PWC Lift Motor do the work!
The Direct Drive PWC Lift Motor will fit ANY PWC lift that has a wheel. With a lift capacity of up to 3,000 pounds, the Direct Drive Boat PWC Motor easily installs in 20 minutes or less. Fully illustrated instructions are included, so get on the lake faster and stop cranking that jet ski lift wheel! Simply turn the key on the motor or add the optional pendant switch and your personal watercraft will be lowered into the water quickly and safely. We guarantee you'll use your jet ski more!
Key Features & Benefits
2 Year Warranty Against Manufacturer Defects
3,000 lb Boat Lift Capacity
Manual key or Pendant Switch
DC 12v PWC Lift Winch Motor
Dutton Lainson Installation Kit
Back-Up Drive Drill Bit
5W or 10W Solar Panel
PWC Lift Solar Charging Kit
Keep your boat lift battery in top condition and ready to use at any time with Lake Lite's Boat PWC Solar Charging Kit. Our more advanced charging kit, is the perfect charge for 12v DC boat lift systems using a single 12v battery.The added power of Lake Lite's Boat Lift Charging Kit ensures better performance even on cloudy days allowing for higher useage. Our high quality solar panel will keep your boat lift battery in top condition so the DC lift motor has the power to raise and lower your boat. Illustrated instructions ensure fast and simple installation plus we offer a video for additional reference.
The PWC Lift Solar Charging Kit is constructed to last using only the best materials to withstand harsh marine environments and UV radiation. The easily-adjustable anodized aluminum mounting arm resists corrosion and has the strength to withstand high winds and storms. Furthermore, Lake Lite's manufactures the highest quality solar panels available and are rated for 20+years life! With an emphasis on CELL quality, reliability, and longevity, Lake Lite's 10w-12v PWC Lift Solar Charging Kit meets the highest customer standards. Our panels feature monocrystalline cells, a superior solar technology when it comes to efficiency. Superb low lighting performance, these single-crystal, silicon cell panels have a long lifespan, high durability, high reliability. These modules are sealed with low iron tempered glass and anodized aluminum alloy frames.
Accessories & Replacement Parts